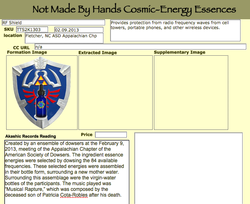 60 professional dowsers assembled 2/9/13 to co-create this new essence RF Shield TTS2K1303 that protects you from the insidious effects of RF pollution from cell phones anad towers. Very needed.
Be sure to watch the "Resonance" video at http://tinyurl.com/RFshield
Important.
Be careful. I placed it near my wi-fi source before turning it on this morning, and it blew us off the Internet. I had to remove the essence from the router before the signal was usable in the house. Better to carry the bottle with you, or take it internally.
Advice: turn off your wireless devices when you do not need them. Turn off night lights. Take Melatonin before sleeping. Use TTS2K1103 Star Seed to restore the necessary melatonin energy frequencies i your body, if you cannot take melatonin.