The Science of Cosmic-Energy Essences
Part 2: Hoaxes vs. Evidence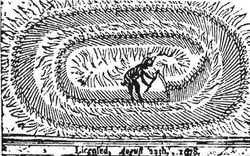 Designs in fields have been observed for hundreds of years, as shown in this woodcut from a journal of 1698, only 56 years after Galileo's death while under house arrest by the Church.

Science was still in its infancy, and anything that the Church did not know about must be done by the Devil.

Those were the only choices at that time.

---
There have been some 10,000 crop formations in over 50 countries.

The immensity of this array of productions precludes simple hoaxing.

Each formation is unique, and many incorporate designs that have been part of the historical record of humans on Earth.
---

Crop circles began to be noticed in 1978 and have steadily increased since then, gradually spreading out from Wiltshire County England to the rest of the world.
---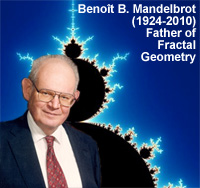 Benoit Mandelbrot invented fractal geometry, a branch of iterative mathematics that generates extraordinarily beautiful patterns that continue in their complexity as far into infinity as any computer is willing to compute.
---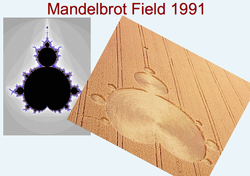 In 1991 the Mandelbrot pattern showed up in a field.

Skeptics were quick to point out that the infinite nature of a true fractal had not been fully implemented in the field.

Give us a break!
---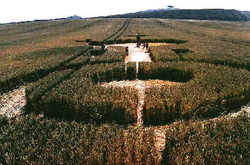 Michael Glickman, a renowned architect, dismissed crop circles for many years as pranks or weather phenomena, until he at last entered one in 1990 in a field known as Alton Barnes.

He saw straight lines, impossible for weather patterns to create.

He saw individual stalks carefully interwoven with standing stalks, which cannot be done with boards.

---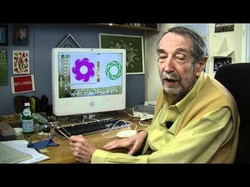 Glickman recognized the immensity of the importance of what he was observing, and over the years he has become one of the giants in the field of crop-circle research.

He was not in the least put off by Science's illogical position that such field patterns could only be created physically.
---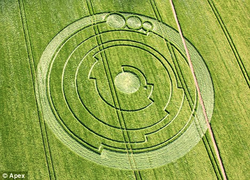 He was particularly intrigued by this formation, which appeared in a field near Barbary Castle on June 1, 2008.

It puzzled him for some time.

He knew that it meant something, but what?
---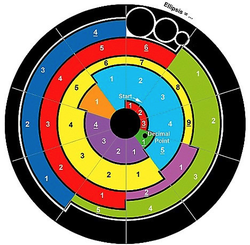 One day it dawned on him.

It was an encoding of the irrational number pi of mathematics, 3.41592654..., to eight decimal places, complete with a decimal point and a trailing ellipsis indicating the infinite continuation of the digits.

It spirals out from the center in a clockwise direction.

The circle makers know their mathematics.

They speak our language, the universal language of mathematics.
---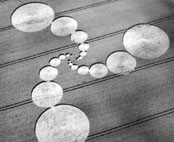 Skeptics, who often masquerade as scientists, periodically try to create crop circles that look authentic. This photo, from the Netherlands in 1999, is of a hoax formation made by Remko Delfgaauw and a team of friends and colleagues. He detailed the months of preparation, designing and practice, and nights of the hard field work, in a 1999 issue of Skepter, a magazine for skeptical scientists. What he wanted to prove was that even the most complex crop circles can be made by man, in the dark, using tape measures, ropes, wooden tripods, tent pins, lots of PVC pipes and headsets to communicate. Even though the team worked for two nights in a row, they failed to complete the planned design, and large connecting circles were missing due to a lack of time.
---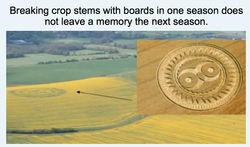 The next year, the field where Delfgaauw and crew made their hoax grew back the way it always had. To date, no man-made crop circle has ever reappeared the following year as a ghost image.
In 2000 the ghostly image of an owl reappeared exactly where, in 1997, a beautiful owl design had shown up.
The essence from this formation is
Sacred Owl 0907
.
---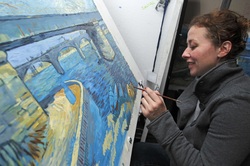 For more credibility, hoaxers might want to follow the most basic of logical precepts: modeling something well does not mean that you understand the process.

In particular, observing that a human being who is not Vincent van Gogh can create a painting that looks like a van Gogh has no bearing whatsoever on whether or not van Gogh was real.

The fact that humans can crush stalks in a field in the dark to make a pretty design has no bearing on the authenticity of real crop circles, especially since authentic formations have characteristics that hoaxers cannot duplicate, such as node-length elongation.
---
The late biophysicist
Dr.
William C. Levengood of the University of Michigan and
BLT Research
, found significant differences between the length of apical (topmost) nodes of grass-family crops inside the circles and outside them.
In
published papers
in scientific journals Levengood documented that the degree of node elongation in stalks inside the circles was correlated to the distance of the stalk from the center of the crop circle, suggesting that an energy had been emitted from the formation's center.
---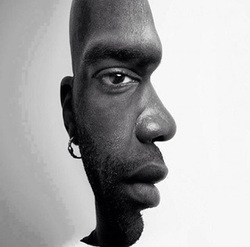 What you are experiencing is a paradigm shift.
Suddenly you see things in a new light.
Fasten your seatbelt.

A paradigm is a set of mutually reinforcing precepts that form a reality system.
The old paradigm is failing, and a new one is emerging. Help us form it.

We will call the components of this new paradigm Probable truths because we cannot prove anything, really; we can only keep updating our ever-changing set of understandings that resonate most deeply with our personal experiences in life.

We will claim no truths here, because no one knows the truth. It is up to you to feel into these probable truths and retain the ones that resonate most deeply with you.

---

The nodes that connect the straight lengths of stalk of a plant exposed to a crop circle sometimes display exit cavities through which steam has exploded.

Probable truth: Genuine crop circles are created by energy, not boards and ropes.
---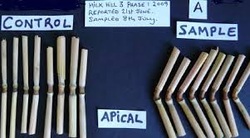 Left:
BLT Research
control samples of crop stalks outside the formation, showing normal growth patterns.
Right: bent apical (topmost) nodes from within the formation. The apical node is the only node that is actively growing at the time of the energy influx. The stalks bend in the direction of the design of the formation, as manifest at the site of the sample.
---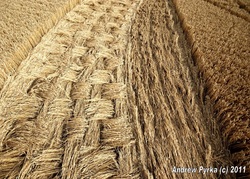 Quite often the stalks are woven into each other, layer upon layer, with each succeeding layer flowing in a different direction than the one below it.

Can you imagine discomfited scientists, enraged religionists, or pesky high-school pranksters working long hours into the night, in the dark, weaving such patterns?

Seriously?
---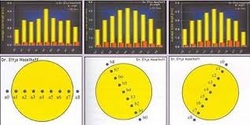 Measurements of the degree to which nodes in crop stalks get elongated show that the greatest degree of elongation occurs in the center of the pattern, and the farther from the center, the less elongation occurs.

Correlation is not causation, of course, but Science has long pretended that being able to predict behavior is the same as actually understanding it. Remember gravity, whose equations accurately predict behavior, even though Science probably deeply misunderstands the nature of gravity.
---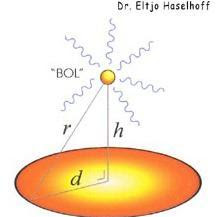 The elongation pattern of apical nodes is consistent with an energy-based broadcast centered over the formation, as if from an elevated source.
Balls of Light (BOLs) or orbs have been observed over many crop circles during their formation. Videos,
Example 1
and
Example 2
, have even been taken of such BOLs flying over crop circles. These BOLs may be a source of the formation energy, or they may represent intelligent beings observing the patterns.
Mainstream Science ignores such important questions, because there can be nothing to investigate in phenomena that conflict with the dogma of the Church of Science. We remember that the Catholic Church did not bother to cross-check Giardano Bruno's observations before burning him to death, because the last thing they wanted to do was to confirm his data.
---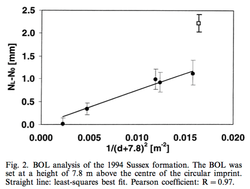 Hasselhoff and Talbott measured the node elongations observed in four crop circles.

Fitting a least-squares model to the elongation of the apical node as a function of distance from the center, they found Pearson's product-moment correlation coefficient between 98% and 100% for two authentic formations, meaning that a significant relationship was established, at least in those two fields.

Below: Original and corrected correlation coefficients and the heights of the apparent energy sources. The heights that best fit the data for the two from varied from 7.8 to 9.5 m. Niewerkerk was a 1997 Dutch hoax, and its correlation is insignificant.

---


The implication of this scientific work is that measurements of node elongation could lead to a reliable test by which authentic crop circles could be routinely distinguished from man-made ones. Such a test would be useful to guide further research.

It is unclear at this point whether such circular energy patterns would exist in formations that are not circular in nature, such as the Chilbolton formation (left), which was a rectangular response to Carl Sagan's 1974 broadcast to the universe of who we are and where we live. More research needs to be funded to answer such questions, but Science dogma inhibits such valid inquiries at the edge of knowledge.

Courageous and true scientists like Levengood, Talbott and Hasselhoff follow the data wherever it leads, while pseudo-scientists choose to avoid such phenomena for fear of being ridiculed or losing their funding or positions.

---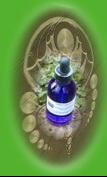 Dowsing can detect the highest-energy point in the formation.
This is generally in the center, where Hasselhoff finds the longest node elongations.
The bottle of Glastonbury Chalice Well water is placed there to be energized.
Some formations are not circular, and some have energy centers that are not in the center of the formation.
Left:
0404 Tending Your Garden
, an Arcturian essence
---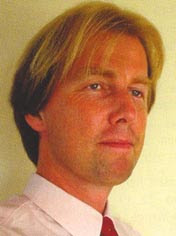 Dr. Eltjo Hasselhoff also found that ghostly traces of crop-circle patterns are sometimes found in the crop the following year. Pat of that effect may come from seeds that avoid getting harvested because they have been pressed close to the ground.

Further, the effect on the seeds depends upon the time of the year when the formation occurred.
Seeds impacted early in the growing season may not germinate at all, while plants affected in mid-season grew much more slowly under controlled conditions.

Interestingly, seeds affected late in the season can grow up to 45% faster than control seeds, a result that should be of extreme interest to agribusiness, an industry that portrays itself as trying very hard to find ways to feed the burgeoning population of Mother Earth.

However, agribusiness has shown zero interest in exploring how this growth-boost effect can be harnessed to help feed people. Perhaps they have no real scientists, either.

---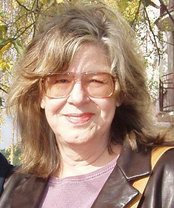 Nancy Talbott is a long-term crop-circle researcher, tireless, meticulous and hard-working.
A colleague of Dr. William C. Levengood, her research papers have set a high standard for respectable scientific work in this field.
She operates
BLT Research
out of Cambridge, Mass.
---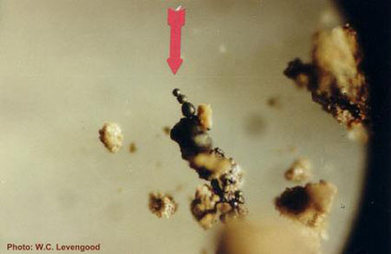 Nancy Talbott also discovered that in some crop formations, beneath the surface, there are perfect spheres of magnetic iron of a purity that exceeds any Earth lab's ability to create.

So, of course, metallurgy scientists from all over the globe descended upon the crop circles to apply the scientific method to develop and test hypotheses so we can learn more about how to refine our base ores into higher levels of purification than we have been able to achieve to date.

Editor's Note: Scratch that last paragraph. It should have happened, but it didn't.

Not even the promise of immense profits from new methods of super-high purification can entice comfortable scientists out of their theoretical labs and into the reality of crop-circle fields.

---
Science ignores the question of how hoaxers in the dark with boards and ropes can hide metal balls in the soil or make plants grow differently than plants that have not been crushed by boards. The obvious answer is that these effects cannot be made by boards and ropes, therefore there is something here that demands thorough scientific investigation.

But to honestly investigate this question is to risk finding that the phenomena are not explainable by Science as we know it, which must therefore be incomplete, as if something important
(like ether, for example) has been left out of the equations, something Science will not admit.

---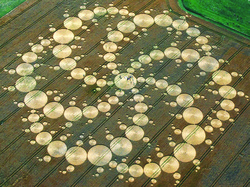 On August 11, 2001, just one month before 9/11, it rained all day on the rolling hills at Milk Hill, in Wiltshire. There was no crop circle in the field. It rained all night as well, and no one was out and about. Yet, when the clouds cleared in the morning, a massive formation had appeared.

It was 900 feet across, consisting of 409 perfect circles, each a prime number of inches in diameter. Every circle was exactly where it should be to make a perfectly symmetrical pattern, like a great galaxy. The stalks were bent, not broken, and there were no footprints, no vehicle tracks, and no mud from guilty boots on top of the plants.

It was clearly Not Made By Hands, at least not the kind of hands that we have.
---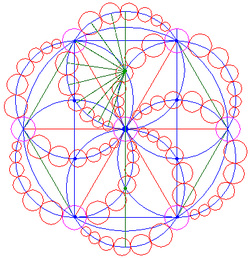 As people began to notice this extraordinary formation at Milk Hill, measurements were taken, and a beautifully designed and implemented mathematical plan became evident.

Throughout the formation high mathematics controlled the placement of the circles. There were no straight lines in the formation, beyond the inferred straight lines between the centers of prominent circles within the formation.

A scientist, in a broad sense, is a person who engages in a systematic activity to acquire new knowledge about potentially useful topics. Scientists use the scientific method, which is a method or procedure that has characterized natural science since the 17th century. It consists of systematic observation, measurement, and experimentation, together with the formulation, testing, and modification of hypotheses, which are reasonable guesses about the nature of reality.



---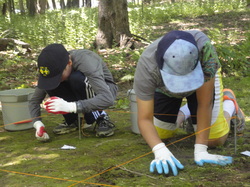 It was clear that the Milk Hill formation could not have been made by hoaxers with boards and ropes in the dark and pouring rain. It was equally clear that it could not have been made by whirlwinds or other weather phenomena. Its mathematical precision made it obvious that the circle makers were intelligent, well educated and sophisticated. It was a new frontier for Science!

So scientists immediately came by the thousands from all over the world to acquire new knowledge, systematically measure the circle's geometry, and form and test reasonable hypotheses, because this formation represented the cutting edge of knowledge, the living, throbbing edge of ultimate human experience, an opportunity to perhaps learn untold wisdom and science from intelligent beings that know a lot more than we do.
---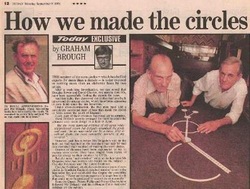 Editor's Note:
Cross off the last paragraph. It is totally untrue.
No scientists were dispatched. No investigation team was assembled.


The only hypothesis that was discussed was that Doug Bower and Dave Chorley, two old codgers from the local pub, did them all, so it's all old news. If not them, then some high-school pranksters. Nothing here. Just pranks. Even after Dave Chorley died in 1996, five years before the Milk Hill formation, most clueless people and scientists still held onto this impossible hypothesis. It was as if they were afraid to consider the implications that any of the crop circles were Not Made By Hands. What then?

Approaching a truly extraordinary phenomenon like the formation at Milk Hill requires courageous, open-minded scientists. Apparently we don't have many.

---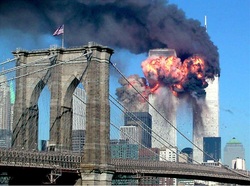 So how did our planet react to this opportunity to receive help from benevolent off-planet allies?
Within a month, airplanes flew into the Word Trade Center, and then, miraculously, World Trade Center Building 7 fell down on its own, without being attacked, enriching those who took out the insurance policy on it and leaving residues of thermite, a building demolition explosive, in the debris. Really? Is that the best that Planet Earth can do? Seriously?

We followed that debacle with an expensive decade of invasions of nations that had nothing to do with 9/11, followed by the generalized terrorist response, and 24/7 nonstop jabbering about things to be afraid of. Enough of that. It is not a path that leads to the world we seek.

The opportunity to begin communicating with off-planet intelligence was lost for the moment, so we and others had to do the science ourselves, which is what NotMadeByHands.com represents -- the people of Earth working with the off-planet allies, on our own, without the self-described mainstream scientists or bumbling bureaucrats, to begin the manifestation of a peaceful and sustainable world that we can all be proud of, a genuine prize to be handed down to future generations.

---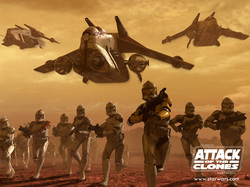 Aliens?! Everyday we are bombarded by images of evil aliens attacking us. Shouldn't we be afraid? Shouldn't we kill them all before they kill us?

Apply simple logic and relax already.

Crop formations like Milk Hill demonstrate the circle-makers' ability to manifest highly complex mathematical ideas from a distance into fields of standing crops and elsewhere.


We do not know how to do such feats. Therefore, these visitors are far more advanced than we are. If they do not want us to live, then we would be dead. But we are alive. So they mean us no harm.

---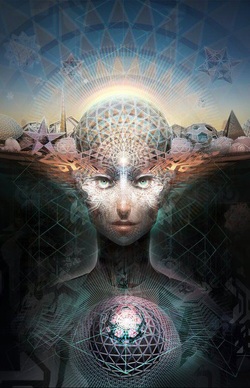 Star Wars is fiction, designed to sell movie tickets by preying upon our love of being scared.
Crop circles, on the other hand, are non-fiction.

It is important to separate Probable Truth from fiction in our understandings, lest we make errors of judgment in how to proceed in this important area of potentially vast implications.

Probable Truth: the circle makers are advanced far beyond our wildest imaginings, and they speak mathematics, the universal language.

Probable Truth: the circle makers are benevolent and interested in assisting us as we struggle to emerge from the morass of warlike attitudes, competition, and environmental devastation that we have unleashed upon this most beautiful of planets.

Probable Truth: the circle makers will not interfere in our business unless we ask them to.

Probable Truth: the circle makers are leaving encrypted clues in our fields, clues that speak only to those who choose to courageously investigate them.

Probable Truth: We are a species that these off-planet people have engineered as a combination of DNA from indigenous sources and their own. They are in some sense our parents.
---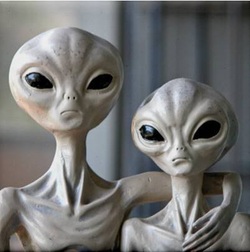 Ephesians 6:2-3
"Honor your father and mother that it may go well with you and that you may live long in the land."
---