Music Inspired by the Energies Found in Crop Circles and Other Sacred Sites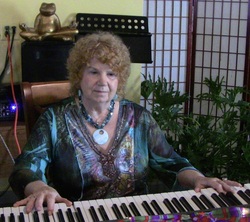 Aurora Foxx is one of a precious few individuals on this planet who have the ability to spontaneously transcribe heavenly music from the spheres beyond the Quantum Edge into never-before-heard-or-played compositions of great energy.
Her music is not always meditative. It is is energizing. It has positive effects upon your body and soul. Hearing this higher-consciousness music puts you in a better space and clears your chakras and your cluttered mind. It will blow your mind in a good way.
We are now blessed to have seven full volumes of her crop-circle-inspired keyboard music, plus one Best Of Aurora CD, all captured live in real time in the presence of mesmerized audiences. Listen and let the music awaken you in a good way. Have fun!
​Video of Aurora in concert downloading music inspired by essence #1415, Lyme-free.
---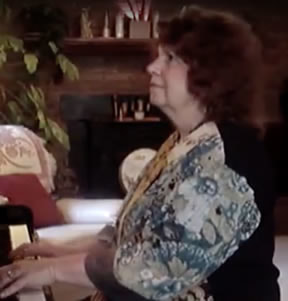 July 20, 2017:
Aurora has probably downloaded her last cosmic music for us, as her health has deteriorated.
She is currently at CarePartners Hospice, 68 Sweeten Creek Road, Asheville, NC 28803 phone 828-277-4800
She is unresponsive and visitors are probably not helpful.
Donations on her behalf can be received by the CarePartners Hospice here: http://bit.ly/2dLIs67
She would appreciate your helping those who help others.

---
---
---
5001 Cosmic Music Infinitude, Vol. I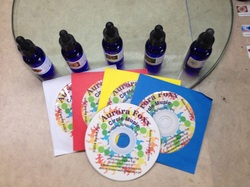 ---
---
5002 Cosmic Music Infinitude, Vol. II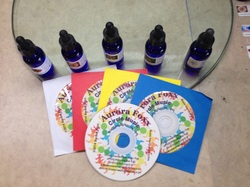 ---
---
5003 Cosmic Music Infinitude, Vol. III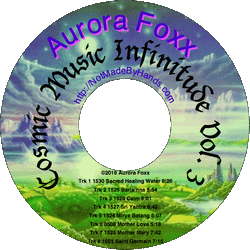 Volume three of the astonishing collection of cosmically inspired music, played spontaneously by Aurora Foxx, after taking a single drop of each essence.

Below are the links to the essences that inspired this assemblage.
---
---
5004 Cosmic Music Infinitude CD, Vol. IV
| | |
| --- | --- |
| Some of the most moving and beautiful spontaneous music you have ever heard! Taking a drop of the essence and then listening to the tune can give an experience you will not forget! Click links on right to listen to each track. | |
---
5005 Cosmic Music Infinitude CD, Vol. V
---
​5006 Cosmic Music Infinitude CD, Vol. VI
---
​5007 Cosmic Music Infinitude CD, Vol. VII
---
5008 Best of Aurora Foxx
---
Out There in the Galaxy, by Petra Maia
---
Our dearly loved singer/song writer Terry Wetton passed away unexpectedly in November 2016. He is missed.
This remarkable 1978 song by Canadian Chris de Burgh is wildly popular in Europe and is quickly gaining momentum in the US. Over 1.4 million people have viewed Celtic Woman perform it. It leaves people wide-eyed, with their jaws dropping in sudden recognition of the Greatest Story Never Told Right. The Christmas Story was written at a time when people knew that their world was small and flat, with stars thoughtfully placed in the heavens by God, as decorations for the night sky. There was no term for ET, no idea that civilization existed beyond the borders of the Holy Roman Empire.
Today a wholly different story would be told, recognizing, as we do, that the number of galaxies out there exceeds the number of grains of sand on all the beaches of the Earth, and that our planet is young, and of a common sort, in a universe that is richly populated by advanced, benevolent beings who seek only to share love and compassion with our warlike, distressed, overpopulated planet. Stars do not beam light down upon the Earth, but visiting craft certainly do. Without offending any religious traditions, it is time to integrate a more modern understanding of our spiritual roots.