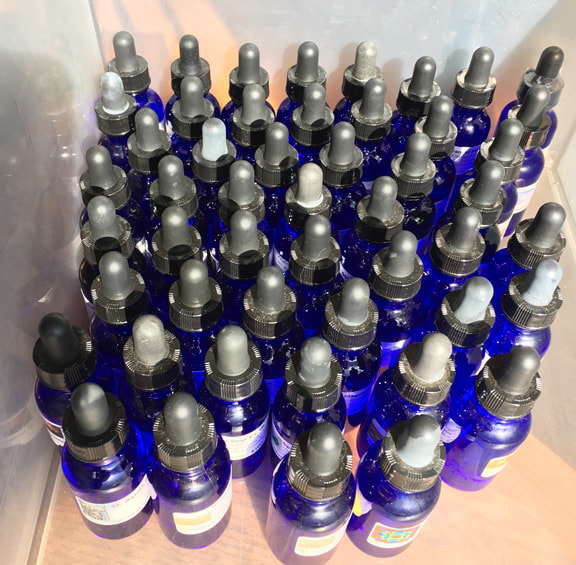 Yes, that's right! These essences are yours for one penny each at our site, for a limited time.
If you have been drawn to one of these but couldn't afford it, now's your time!
Here's what to do:

1. Select any essence with a price above $20 and put it in your cart.
2. Select any four from this list and buy them using the BOGO option.
The BOGO price of $0.01 will appear when you select it from the little gray up/down triangle to the right of the price:

3. Click on Add to Cart, then click the Continue Shopping link in upper right
​4. Complete the transaction, paying through PayPal with any card or a PayPal account.
​
You may do it as many times as you like, but when these items are no longer available, we will not be able to send them to you at the one-penny price. Sorry about that. You can always get one for a penny with any other essence that you buy, normal BOGO.
There is an index to the essence following the image display below.
---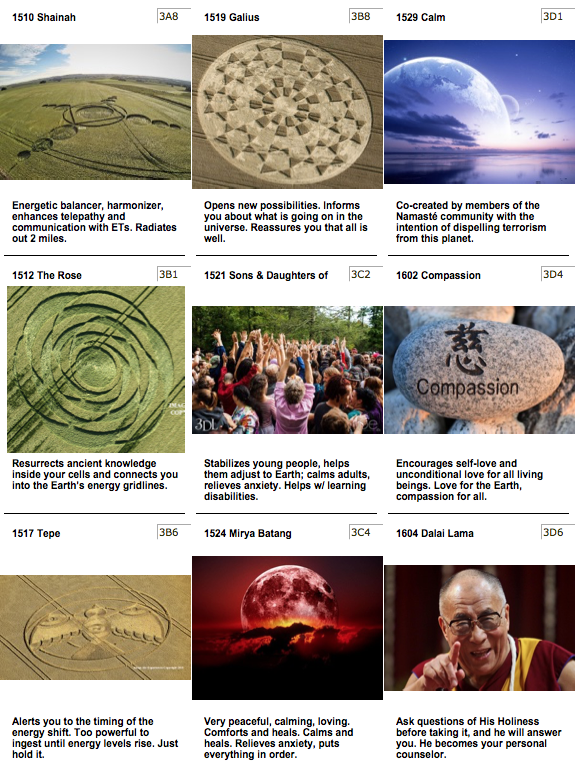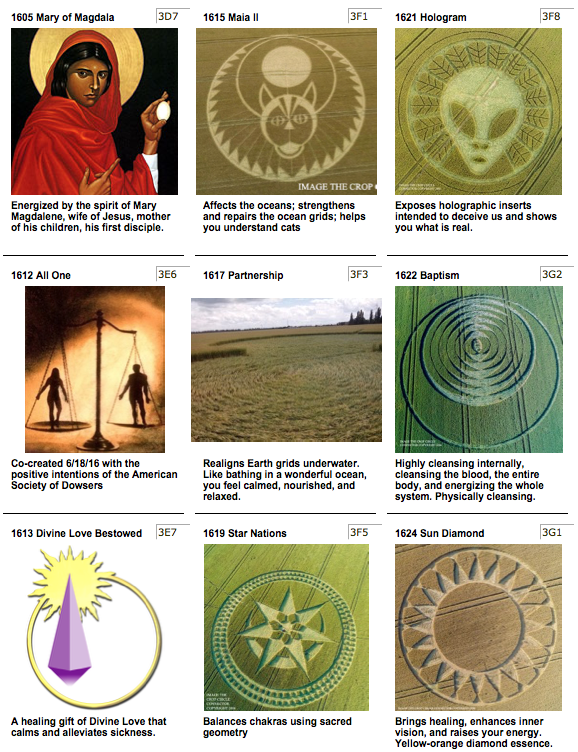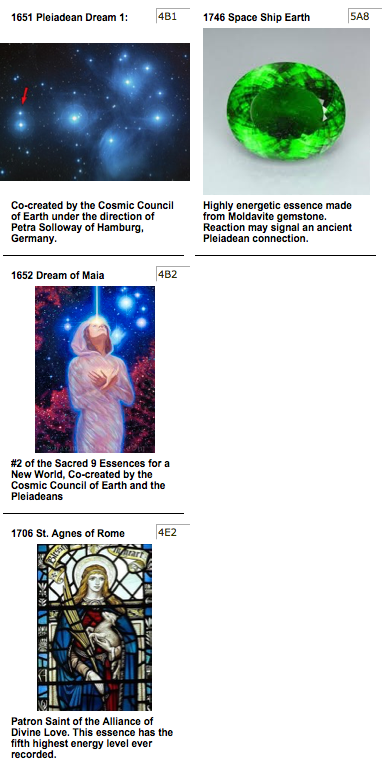 Index to Excess Inventory Items
Click the link to go directly to further information on each one.
Power Ratings on the Quantitative Bovis Scale: KB = 1,000 Bovis. MB = 1,000 KB. GB = 1,000 MB. TB = 1,000 MB. PB = 1,000 GB.
| Name | Aspects | Creator | Power | $ |
| --- | --- | --- | --- | --- |
| 0304 Gratitude | Enhances imagination, creativity, & inspiration. Reverses negativity. | Sun People | 1.6MB | 40.00 |
| 0401 Star Wave | Enables you to remember your roots and connections in the cosmic ocean. | Pleiadian | 20MB | 40.00 |
| 0406 Digital Time | Show you where you are stuck, accelerates change, helps you transcend the digital world. | Pleiadian | 2.2MB | 33.00 |
| 0502 The Bridge | Cohesiveness within diversity, helps you celebrate & be happy. Enhances the joy of celebration & cooperation. | Pleiadian | 8MB | 34.00 |
| 0504 Group Alignment | Feelings of being part of whole universe & enhances altruistic intentions. Aligns us with off-planet races. | Pleiadian | 8MB | 50.00 |
| 0506 Language of Love | Stimulates DNA for those who are really asleep, starts bodily change, like a spark, starts positive movement. | Arcturian | 24MB | 47.50 |
| 0802 Illumination | Cleanses & reenergizes bodily fluids; upgrades their crystalline structure. Brings in a higher light quotient. | Arcturian | 2.2MB | 47.50 |
| 0907 Sacred Owl | Helps you find the God Source within; brings visions of paradise, ancient memories of a verdant Earth. | Mayan | 10MB | 70.00 |
| 1101 Fionn | You must be drawn to this one. Helps with species integration, Helps clean the Earth. You will know. | Arcturian - Pleiadian - Andromedan | 26MB | 70 |
| 1303 The Water Bearer | Provides protection from radio frequency (RF) waves from cell towers, portable phones, and other wireless devices. | Collaboration | 16MB | 120. |
| 1304 Theidan | A warrior spirit for truth. It makes very clear the discernment of energies and their motives. | Collaboration | 16MB | 67.00 |
| 1314 Two-Mass | Dynamic, deliberate, powerful manifestation tool; quickly energizes your intentions. | Pleiadean-human | 3.2MB | 34.00 |
| 1399 Grandmother Moon | Anti-Sudden-Oak-Death innoculant and human anti-cancer treatment. | PleiadeanArcturianAndromedan | 26MB | 80 |
| 1422 Aurim | Calms chaotic people and induces chaos in balanced people. Only for persons in chaos. Encourages world peace. | Aurim Collective | 1.8MB | 70 |
| 1424 Global Citizen | Creates deep feelings that open your heart. Enables you to deeply understand how all is connected in oneness. | Human Intention | 20TB | 47 |
| 1431 Revitalization | Connects you to power spots on Earth, brings harmony, great for gardening, crops, land, birds, abundance | Pleiadians | 4MB | 77 |
| 1433 Beneficence | For conflict resolution, understanding duality, polarity, and the value of opposing positions. Very high energy. | Higher Guidance | 90GB | 45 |
| 1508 Ah-Tol | Peaceful. Take no more than twice a week. A technological gift from advanced civilizations. Helps eyes. | Arcturian - Pleiadian | 140MB | 44 |
| 1510 Shainah | Energetic balancer, harmonizer, enhances telepathy and communication with ETs. Radiates out 2 miles. | Arcturian | 2.2MB | 42 |
| 1512 The Rose | Resurrects ancient knowledge inside your cells and connects you into the Earth's energy gridlines. | Pleiadians | 120MB | 55 |
| 1517 Tepe | Alerts you to the timing of the energy shift. Too powerful to ingest until energy levels rise. Just hold it. | Large Collective of ET beings | 115GB | 50 |
| 1519 Galius | Opens new possibilities. Informs you about what is going on in the universe. Reassures you that all is well. | The Federation of Ancient Star Being Elders | 115GB | 87 |
| 1521 Sons & Daughters of Men | Stabilizes young people, helps them adjust to Earth; calms adults, relieves anxiety. Helps w/ learning disabilities. | Participants at 3DL4 | 55MB | 105 |
| 1524 Mirya Batang | Very peaceful, calming, loving. Comforts and heals. Calms and heals. Relieves anxiety, puts everything in order. | Loving hearts of the ADL Ministers | 120GB | 33 |
| 1529 Calm | Co-created by members of the Namasté community with the intention of dispelling terrorism from this planet. | Namaste Center | 600TB | 68 |
| 1602 Compassion | Encourages self-love and unconditional love for all living beings. Love for the Earth, compassion for all. | Cosmic Music Scene | 400TB | 57 |
| 1604 Dalai Lama | Ask questions of His Holiness before taking it, and he will answer you. He becomes your personal counselor. | Dalai Lama | 950GB | 48 |
| 1605 Mary of Magdala | Energized by the spirit of Mary Magdalene, wife of Jesus, mother of his children, his first disciple. | Higher Guidance | 500GB | 67 |
| 1612 All One | Co-created 6/18/16 with the positive intentions of the American Society of Dowsers | American Society of Dowsers | 600MB | 27 |
| 1613 Divine Love Bestowed | A healing gift of Divine Love that calms and alleviates sickness. | Alliance of Divine Love | 600MB | 76 |
| 1615 Maia II | Affects the oceans; strengthens and repairs the ocean grids; helps you understand cats | Nibiru | 550GB | 80 |
| 1617 Partnership | Realigns Earth grids underwater. Like bathing in a wonderful ocean, you feel calmed, nourished, and relaxed. | Earth | 80GB | 56 |
| 1619 Star Nations | Balances chakras using sacred geometry | Collective of Star Nations | 150MB | 77 |
| 1621 Hologram | Exposes holographic inserts intended to deceive us and shows you what is real. | The Holographic Inserts Themselves | 900TB | 56 |
| 1622 Baptism | Highly cleansing internally, cleansing the blood, the entire body, and energizing the whole system. Physically cleansing. | Arcturian | 900KB | 77 |
| 1624 Sun Diamond | Brings healing, enhances inner vision, and raises your energy. Yellow-orange diamond essence. | Thunderbird Clan | 950GB | 47 |
| 1651 Pleiadean Dream 1: Pleione | Co-created by the Cosmic Council of Earth under the direction of Petra Solloway of Hamburg, Germany. | Pleiadian - Human | 40GB | 22 |
| 1652 Dream of Maia | #2 of the Sacred 9 Essences for a New World, Co-created by the Cosmic Council of Earth and the Pleiadeans | Pleiadean-Human | 450GB | 77 |
| 1706 St. Agnes of Rome | Patron Saint of the Alliance of Divine Love. This essence has the fifth highest energy level ever recorded. | Alliance of Divine Love | 900PB | 67 |
| 1746 Space Ship Earth | Highly energetic essence made from Moldavite gemstone. Reaction may signal an ancient Pleiadean connection. | humans | 890BB | 100 |
---