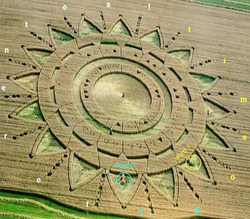 Context on Torino
Dr. Brian L. Crissey
Before we get out our nuclear space weapons to stave off the invasion of evil ETs, it may be wise to avoid another trap, which is to think that we can judge what we cannot judge.
The Latin word
ferentes
is spelled in the post-Augustan style. Before then it was
ferentis
. In 1991, on Milk Hill, a formation appeared that was determined later to also have been in post-Augustan Latin.
Gerald Hawkins translated it to mean "
I
oppose acts of craft and cunning". It is in first-person singular, as if the circlemaker is speaking.
On June 23, near the Aeroporto Torino Aeritalia, near Turin, Italy, another ASCII encoding spelled out in first-person-singular post-Augustan Latin the words, "timeo et ferentes!", which reference Virgil's
Aeneid
, which includes the story of the Trojan horse:
Equo ne credite, Teucri! Quidquid id est, timeo Danaos et dona ferentes, which means "
Do not trust the horse, Trojans! Whatever it is, I fear the Danaans (Greeks) even if they are bearing gifts."
The best translation of the only three words actually used does not tell
us
to fear anything, for it is in first-person singular: "I -- the circle maker -- fear, even while bringing assistance."
The "et" is the Latin word for "and" or "even." In this case it means "even" rather than "and", and it does
not
refer to extraterrestrials or ETs in any way, even if it is capitalized. In 2002 the Crabwood ASCII disk was decoded as "Beware the bearers of FALSE gifts & their BROKEN PROMISES. Much PAIN but still time. BELIEVE. There is GOOD out there. We OPpose DECEPTION." Look at the capitalization patterns, especially the word "OPpose ". The circle makers seem not to have a deep grasp of English capitalization rules, or they are careless about such matters.
It is unlikely that anyone writing in post-Augustan Latin, which was in use 2000 years ago, would insert a capitalized acronym from English, a language that had not yet been invented when post-Augustan Latin was in use. Furthermore, two millennia ago the Earth was thought to be flat, the stars were God's ornaments in the firmament, and there was no concept of terrestrial planet much less
extra
terrestrials or ETs.
Although highly implausible, interpreting the "ET" portion of the message to refer to off-planet visitors could be interpreted as "I -- the circle maker -- fear ET bringing assistance." For many years there has been widespread speculation among UFOlogists that the covert government, or cabal, once the inevitable disclosure gets too close for comfort, would stage a false-flag operation that would appear to be an ET landing. All the latest holographic Steven Spielberg effects would be used, and, at first glance, the ETs would appear to be "bearing gifts" of technology or some other solution to some of our problems. Then, as we open to them and begin to trust them, they suddenly reveal their hideous true nature and begin eating babies, or whatever.
At that point we all run screaming back to our benevolent military protectors, demanding that they do whatever it takes to repel this invasion of monsters. In deference to the wishes of the people, our compliant military dramatically pulls out its secret weapons and destroys its own simulated ETs and UFOs, immediately becoming world heroes with unlimited budgets and a well-trained populace that now firmly regards all off-planet visitors as evil alien invaders to be killed whenever possible.
I also fear such a scenario of "ET bearing gifts," because it would very likely work. It would use the widespread xenophobia in our sci-fi movies, books, and TV programs to continue to cover up the true nature of the presence on Earth of non-human intelligence. But I do not think this interpretation of the Torino formation is the most defensible one. There is at least one other.
During the two decades that Pam and I have been publishing books documenting the ET presence on Earth, a recurrent theme has been that Earth is regarded as a hostile, belligerent planet, whose residents shoot first and ask questions later. The late Dr. James Deardorff made a strong case that Earth is under galactic quarantine until we get our act together. The visiting civilizations, on the other hand, tend to be peaceful, as peace is the only path that is compatible with long-term survival, and those that cultivate and observe us have been around perhaps billions of years longer than we have. They seem to have had a major role in co-creating us and in setting up Earth as a free-will planet, where we have to figure things out without overt assistance from them. They do allow themselves to give us clues, however, like crop circles.
Within this likely context, the Latin words are probably telling us that they would like to help us, but that they fear being attacked if they come within range of our weapons. They need to be invited, with security guaranteed, it would seem.
These advanced civilizations long ago must have mastered bi-directional travel across the Quantum Edge into the timeless and spaceless dimensions of an unseen quantum-physics reality, within which travel through time and across the universe are just matters of careful, practiced intention. They are not limited by Einstein's speed of light, and they have much to teach us.
An interesting video by someone with the handle of Is2012TheDate explains how the formation may be a 16-month calendar can be
viewed on YouTube here
. It does continue to propagate the mistranslation of the outer ASCII ring, though, and the contention that the inner rings indicate significant and minor events is a major speculation without much support.
An alternate way to explore formations like the one at Torino, Italy, is to seek assistance from sincerely competent people who can cross the Quantum Edge with specific inquiries and bring back impressions. Two such people are Petra Maia and Sean Solloway of Hamburg. They accessed the Torino formation remotely using Reiki II, and created
a Cosmic Energy Essence
from its energetic signature. Here is their report:
General information:
A sacred space was opened by Reiki II remote access, first asking for a protected space, then for an empty space of our higher self to be a clear channel. Then we connected to the bottle, the circle and the messengers/beings who made it. We did this humbly, placing the bottle on a picture of the formation on the earth in the garden, while asking again for the energizing of the sacred essence and the messages, if any, to be opened up for the highest good of humanity and Earth. Then we stayed in silence, and at the end we summarized our experiences in a written report that includes all special sensations and feelings and everything that we "see" through our third eye and whatever "voice" we might hear.
-----------
Remarks for this circle:
For this reading, an ant showed up prior to the reading, walking counterclockwise on the placed paper in an exact rectangle, which was surprising and special, as we never experienced such an event before. As we started, I noticed an immediate opening of a diamond-lighted place. We felt the appearance of the unicorn king, with his family around us. We felt the presence of the
Intergalactic Council,
and the Fairy and Gnome Kingdoms.
Sean:
I saw two pyramids connected with a center line, with a pink golden light surrounding it. Like a diamond. This is a planetary connection symbol. Each angle or degree encrypts a certain code that causes our DNA strands to develop and change in conjunction with the influence of various planetary constellations.
Petra:
I felt a sudden and very intense flash of light in my crown chakra, and, when I starting this reading, presences immediately showed up. My whole body system got moved into a positive, alert state, tingling and sparkling. I was nearly in tears, it was so overwhelming.
The unicorn king appeared, bright and impressive in stature, telling me that this formation symbol is bringing
unconditional love and peace to the world
. It is a multidimensional and interdimensional opener. The unicorn herd approached, surrounding us. The very bright diamond light grew bigger and bigger, and colorful sparkles were added.
Then the Intergalactic Council appeared. They all stood up, applauding the session being opened, and they sent their thanks and blessings to the whole team.
They expressed gratitude for your work, Brian & Pam Crissey, and how important it is to continue it.
They told us that each person who takes the essence –
one drop only
– will get a Light Guide at his/her side from that day forward. The persons who take the essence will then carry the light into the world with each step they take, and they will be supported as they take on their special tasks.
This is a very special essence.
The unicorn king kneeled down at the end to bless it with his horn, while the fairies started singing and the gnomes danced (I have never had such vivid pictures!! My whole body was shivering.) Then they disappeared, and it was hard to get grounded again.
FEAR can be an acronym for False Expectations Appearing Real. We live in a commercial society, and fear sells. Our world has too much fear, and it seems to be unhelpful, to say the least, to interpret every new crop formation in the worst, most fearful light. We do not need more fear. We need less. We need to envision a future that is more Star Trek and less Terminator.
If the circle-makers meant us harm, with their advanced technologies, we would not be here now, and yet we are still here. It would seem that our wisest course would be to withhold any judgments. One thing we can do it to experience the energy from the formation for ourselves, and see how it feels. The proof will be in the pudding. It's about feelings, not paranoia.
Brian Crissey, Ph.D.
http://NotMadeByHands.com
Brian@Granite-Planet.net
See also
Tepe
---