2016 Cosmic Energy Essences - KiloBovis Octave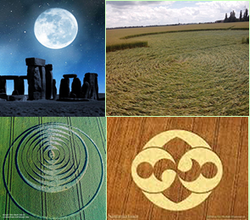 This section includes Cosmic Energy Essences created during calendar year 2016 that measure in the KiloBovis range, i.e., below 1,000 Bovis.

Healthy human subtle-energies average around 25,000 Bovis for the physical body, around 50,000 Bovis for the etheric body, where the aura resides, and around 100,000 for the mental body.

These 2016 essences in the KB octave range from a low of 100,000 for 1614 Stonehenge, up to 800 KB for 1646 Field of Flowers.

Note that 1646 Field of Flowers was created in 2016 remotely through time and space to a formation in Chiseldon, England, in 1996.

Click on the blue title of the essence to return to the top of the page.
---
Table Of Contents
The following Cosmic Energy Essences can be found on this page. Click the link to go directly to further information on each one.
Power Ratings on the Quantitative Bovis Scale: KB = 1,000 Bovis. MB = 1,000 KB. GB = 1,000 MB. TB = 1,000 MB. PB = 1,000 GB.
| Name | Aspects | Creator | Power | Price |
| --- | --- | --- | --- | --- |
| 1614 Stonehenge | Control Center of the global subtle-energy grid. | Pleaidean | 100KB | 86 |
| 1617 Partnership | Realigns Earth grids underwater. Like bathing in a wonderful ocean, you feel calmed, nourished, and relaxed. | Earth | 220KB | 56 |
| 1622 Baptism | Highly cleansing internally, cleansing the blood, the entire body, and energizing the whole system. Physically cleansing. | Arcturian | 900KB | 77 |
| 1646 Field of Flowers | A communication pattern used between off-planet beings and Inner-Earth people. Not for human consumption. | Arcturian and Neptunian | 800KB | 33 |
---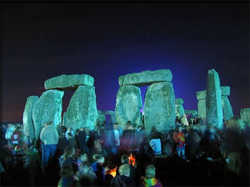 Aingeal Rose O'Grady reads the Akashic Records:
Right away, very tall beings show up. Their essence is in the standing stones. Some might have an experience, others may not. They may choose to enter the stones or not. Pleiadeans who became Lemurians Aqua blue, crystal element to them, being a light being and a crystal being. Much to do with the gravitational field of the Earth and its alignment with the heavens. Sense of rotation. Work together gravity of the Earth and the stars together create a hologram. They show me orbs, which are little holograms of many different realities. earth if full of hologram. People tune into different ones according to their E level All reality is a hologram. Eye of the perceiver determines which one you lock into. Just for fun. Bigger reality: how things work. You could be transported in a ship or being in a sacred temple. All valid experiences. My feet tingle, my abdomen tingles. Different parts of me being activated by this. Gives you an overview of how Creation came together, Perspective from high above, see how it all came together. In a sphere, above the Earth, looking down. One being smiles at me, amused by the whole process. Become aware of your own personal holograms you have created. How to disappear ones you don't want, create new ones. Floating in your Merkaba vehicle, inside the sphere.

Barb W: One of the most powerful emotional experiences of my life when I made this. There was giant there 7' tall when I was there.
Collected by Barb W on site.

---
---
Aingeal Rose O'Grady reads the Akashic Records:
I see a lot of green light. Very unifying, very harmonizing with people. Unity essence, harmonizes personal relations. It is a harmonizer. It shows the connections rather than differences coming together, Good for anyone who is out of phase, out of harmony. Very innocent, very benign. Very simple. It is about cooperation and harmony. It simplifies. Good for leaders before meetings. Put drops on pictures of leaders. Watch their behavior change.

Barbie W: There is a key at top

Sean S: I feel a connection to first Russian dog in space.

---
---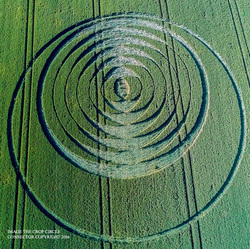 Aingeal Rose O'Grady reads the Akashic Records:
I see lots of crystal white light, clear focused energy, concentrated crystal white light energy focusing in on itself. It has a deliberate intention. The rings come to a point in center and affect deep underground water. It is putting a potentized crystalline structure into the water. I feel a great depth, like a deep well that goes very deep into the earth into the waterways, and then spreads out horizontally. It is about charging water with a crystalline structure. It is as much for the waterways as for the roots of plants and trees. It will affect the atmosphere, the quality of the air, the emission of trees.

Personal: it is highly cleansing internally, cleansing the blood, the entire body, and energizing the whole system. Physically cleansing.

Blue light associated with Arcturians.

Jean R: I agree with it all.
---
---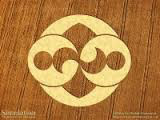 Aingeal Rose O'Grady reads the Akashic Records: 11/12/2016
This pattern has a lot of electrical energy in it. I see a lot of blue and pink colors that are being being pulsed at me. It feels like it electrically affects the subtle-energy grids in the Earth. It flashes an imprint deep into the Earth and pulses a message to another race of beings.

Beings in the sky pulse down this electrical signal to the ones inside the Earth to say they are here. Their main message to the Inner Earth people: We sky beings are back. It is part of a language that passes between star beings.

Flowers belong to different star-being species, because they were brought here by these off-planet beings. Inherent in this signal is the recognition of the flower patterns.

This essence instills an increased awareness of ETs in the Earth grids, stimulating ancient memories of our ET origins. Humans will be more aware of their galactic family now and will begin to recover fuller memories of ET races.

The water in the bottle contains the same signal as in in the field and in the rock. The signal alters human brain chemistry and stimulates a big expansion of memory.

The sun-moon formation hints of a two-month phase where two worlds would have had to cross over, however we missed it; the time has passed, and the lesson was not learned. However, it will repeat.

This formation is not intended for consumption.
---